Imagine knowing exactly how much you have left to spend on your grant in a matter of seconds.
Imagine immediately knowing whether you've met the requirements for your PPP loan.
Don't want to upgrade your QBO, but want to track your EIDL and PPP funds? Here's how...

Meet our Grant and Loan Tracker for Quickbooks and Excel
This magical tool provides step-by-step instructions and fast results, so you never need to stress again!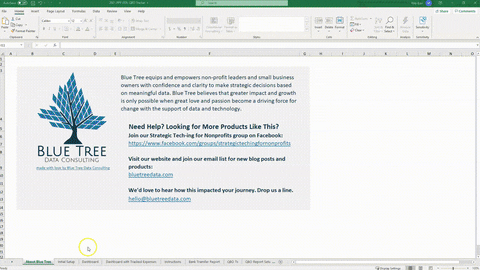 Dashboard Displays
Spend Progress as Percent of Funding
Actual Amount Used from Funds
Combined Spend - Actual Spend Versus Time Elapsed to End Date
Spend Progress as Total Dollars of Funding
Remaining Balance in Funded Account
Tracked Expense Threshold and Whether You are Likely to Hit the Threshold
Days Remaining to Use Funds (or Days Past Due)
Tracked Expenses Related to Grant or Loan
5 Simple Steps
1
Enter your funding information.

2
Make a custom QBO report.

3
Follow the process each time you pay bills or reconcile accounts.

4
Run the report in QBO, copy into excel, and tie it to the funding source.

5
Enjoy your progress graph!

Ready to get started?
In just a few clicks, you'll get instant access to our Grant and Loan Tracker for QBO and Excel. Enjoy!